| | |
| --- | --- |
| E-MAIL | inquire@wsu.ac.kr |
| Website | http://www.jcfs.ac.kr |
Our main campus is in Daejeon, a metropolitan city located in the center of South Korea. Travel from Incheon International Airport to the campus is easy and relatively short. The Airport Express and high-speed train (KTX) will transport you to Daejeon KTX station in about 2 hours. The campus is located very close to Daejeon KTX station, about a 20-minute walk or 5-minute taxi ride.
Please contact us if you want to visit. We'll guide you every step of your way to our campus, and even have our volunteer students meet you on the way if needed.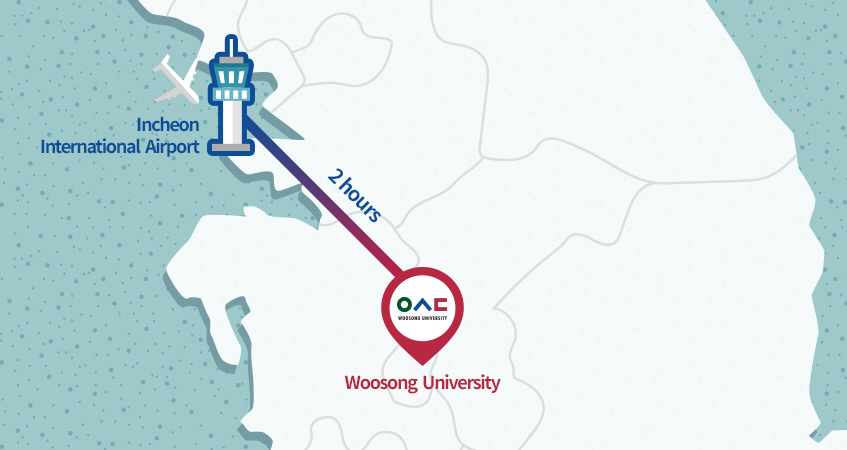 Daejeon is conveniently located in the heart of South Korea. Daejeon is a metropolitan city full of interesting spots to visit, but some of the most popular cities for tourism are also less than 2 hours away from Daejeon. It is only an hour train ride to Seoul, the capital and the largest city in Korea, and one and a half hours to get to Busan, the second-largest city, located on the southeastern coast with beautiful beaches. Jeonju, a charming city famous for traditional Korean architecture and cuisines, is only a 2-hour bus ride away. Your time in our main campus will be full of new activities, experiences, and opportunities to visit other cities.
---
About Korea
Population of 51.2 million (Ministry of Security and Public Administration, 2014) with Seoul – its capital and 5 other major cities (Busan, Incheon, Daegu, Daejeon, Gwangju, Ulsan) having 20% and 25.5% of total population, respectively. South Korea symbols include national anthem (Aegukga), national flag (Taegeukgi), and national flower (Mugunghwa). Its official language is Korean (Hangeul), with the writing system developed by King Sejong the Great in 15th century.
The economy of the Republic of Korea (named Miracle of Hangang River) ranks 13th in the world by GDP (PPP), and has highly developed industry sector constituting one-thirds of economic structure (OECD, 2015). Other sectors contributing about 40% to economic structure include trade, transport, accommodation, communication, finance, insurance and real estate (OECD, 2015).
South Korea also is known for rich cultural heritage with a number of its sites included in UNESCO's Memory of the World Register. National music, folk dance, pottery, painting and calligraphy constitute traditional culture of South Korea. Hally or 'Korean Wave' refers to increasing popularity of Korean entertainment across Asia and other countries since mid-1990s. Korean Wave has been associated with Korean drama, popular music, food, literature and Korean language.
---
About Daejeon
Daejeon Metropolitan City, the 2nd administrative capital (after Seoul) is located at the center of South Korea and is the 5th largest city, with population of over 1,5 million people. Since 1973, Daejeon has been the nation's science and technology hub, due to substantial R&D potential concentrated in the Daedeok Science Town – the nation's major innovation platform. Due to excellent infrastructure system and cental location of Daejeon, one can conveniently travel to any other destination.
Daejeon has 17 high education institutions, a well-developed transportation system, and cutting-edge medical service system. Daejeon is also a popular tourist destination with its beautiful nature, annual festivals, and places of sightseeing including Daejeon Culture and Arts Center, Expo Park, O-World Park, Yu-Seong Spa, and others.